The CUNY Institute for Software Design and Development
Improving Building Efficiency Through HVAC Automation Systems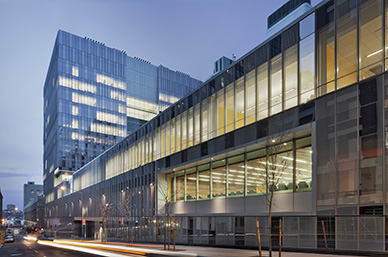 Since 2012, CISDD, in partnership with the CUNY Institute for Urban Systems Building Performance Lab and John Jay College, has worked to collect building HVAC sensor data, develop data analysis tools and techniques, share research with the academic community, define actionable improvements, and collaborate with building managers to implement our findings. One goal of this project is the application of machine learning to make the building HVAC management system more responsive to daily and seasonal trends, such as solar exposure. Another goal is to work with industry partners, to create an appliance device which sits on the BMS management network and intelligently responds to sensor data by changing setpoint values.
---
CISDD's Mission
CISDD's mission is to promote economic development in New York City and encourage the growth of the New York software industry. CISDD was created by the Board of Trustees, as part of CUNY's economic development initiative, in January of 2000. CISDD provides the software industry, as well as CUNY faculty and students, with opportunities to learn about cutting-edge software products and methodologies.
Specifically, CISDD accomplishes this mission, and continues to build CUNY's reputation as a software center in New York, by:
Pairing CUNY's experienced faculty members with software industry professionals and governmental institutions to sponsor and develop the research and creation of new and marketable software technologies; and
Providing specialized IT courses to students and the community at large.
CISDD is particularly interested in promoting work on core and new software technologies, including: operating system enhancements, server-side software, Linux, security issues with software, distributed computing, logic and visualization.
For more information on our services and how you can work with CISDD please visit the rest of our website or Contact Us.